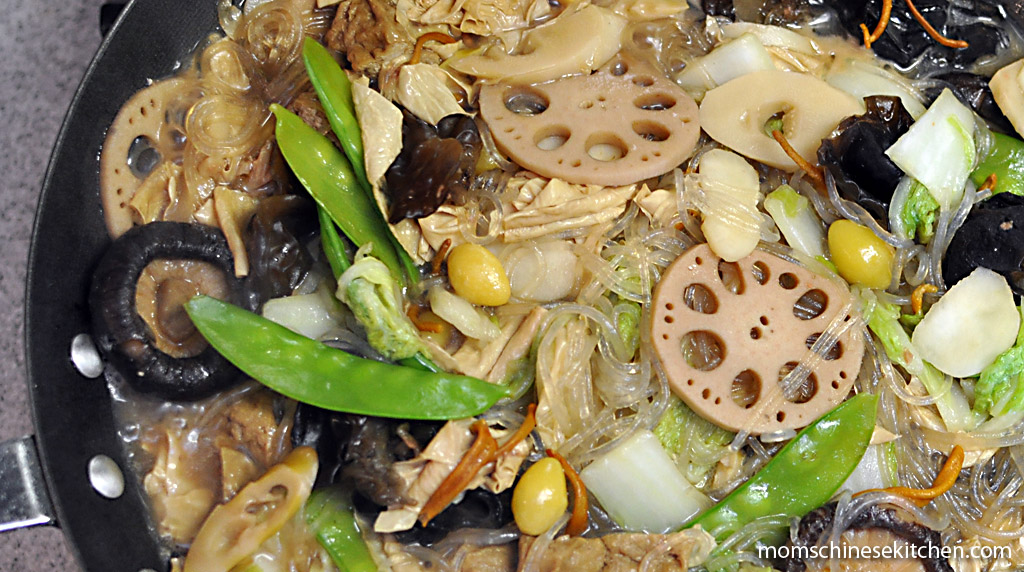 The vegetarian dish known as jai, rhymes with pie, is a popular dish during Chinese New Year. It is also served in monastery dining rooms and at funeral banquets. A large number of ingredients go into the making of jai so there is a great deal of soaking, cleaning, peeling and chopping. But don't worry. The assembly and cooking of jai, is straight-forward and not complicated.
Tofu puffs are fried tofu cubes. In Asian markets they can be found in bulk bins or in packages. The puffs are often very oily so soak in hot water to remove some of the oil before using. Bean curd sticks are made from the film that forms when soy milk is boiled. The sticks are sold in dried form and must be soaked in water to re-hydrate.
If you're lucky enough to live an area where you can buy Hodo Soy Beanery products, consider using their yuba in place of bean curd sticks, and their five-spice tofu nuggets in place of tofu puffs. Soaking is not necessary when using Hodo's tofu nuggets. Hodo makes soy products from organic, non-GMO soybeans. In the San Francisco Bay Area, their products are available at Whole Foods and Costco.
Black Moss and Dried Oysters
Black moss is a common ingredient when jai is made for New Years. The moss looks like hair, thus its name faat choy (髮菜), literally, "hair vegetable." Faat choy is a homonym for faat choy (發財) meaning "get rich." These are the same characters in the New Year greeting Gung Hat Fat Choy, or "wishing you prosperity." Black moss plays an important role in the prevention of erosion, so the Chinese government has instituted restrictions to prevent over-harvesting. These restrictions have cause prices to rise, and now there are reports of adulteration. Since the moss apparently has no nutritional value, it's best to avoid using it.
In Cantonese, dried oysters is ho see (蠔豉). It sounds like 好事 which means good fortune or good deeds. So this is another case of an ingredient that's included just because it's a pun. If you're not superstitious, or you just want a purely vegetarian dish, skip the oysters as I've done here. Also, mushroom sauce can be substituted for oyster sauce if you want to be strictly vegetarian.
The Story of a Humble Women
She was the fifth child, so everyone called her Number Five. Following custom, her parents arranged for Number Five to marry a boy from a neighboring village. But fate intervened. The boy contracted tuberculous and died before the marriage ceremony. There was a great deal of gossip after the boy's death. Superstitious villagers considered Number Five damaged goods. The death reflected negatively on her even though she had nothing to do with it. She had spilled her tea. She was bad luck. Everyone knew about this and talked about it. There was nothing she could do to change peoples' minds. She had to accept her fate; no one else will ever marry her.
Number Five went to the temple and knelt before the priest and announced that she was now an adult. In those days, young girls wore their hair in braids. But from that day on, Number Five wore her hair in a bun to indicate that she was an adult. Colloquially, she was said to have eaten jai, or yaak jai in my mother's dialect. What it meant was that she had accepted her fate and that she would live a life of humility. She eventually found a job as a servant in my mother's family home.
I hope this story doesn't give you the wrong impression. You don't need to have endured a tragedy to enjoy jai. Anyone can enjoy it. And besides, this story has a happy ending. Number Five found a new home and was accepted as cherished member of the household.
Buddha's Delight (Jai)
Author:
Mom's Chinese Kitchen
Prep time:
Cook time:
Total time:
A vegetarian stew often served during Chinese New Year.
Ingredients
Dry ingredients
8 black mushrooms
½ oz (14 g) cloud ears
2 bean curd sticks
¼ cup of lily flowers (golden needles)
2 oz (50 g) mung bean vermicelli noodles
Fresh ingredients
24 snow peas
8 oz napa cabbage leaves (about 225 g)
5 water chestnuts, peeled and sliced
24 ginkgo nuts (1/3 cup shelled)
3 oz (90 g) bamboo shoots, sliced or julienned
8 oz lotus root, peeled and thinly sliced
8 tofu puffs, cut in half
vegetable oil
Sauce ingredients
3 bricks of red fermented bean curd, mashed
3 tablespoon oyster sauce or mushroom sauce
½ tablespoon toasted sesame oil
½ tablespoon soy sauce
1 tablespoon rice wine
1 teaspoon kosher salt
½ teaspoon sugar
1 teaspoon corn starch suspended in 1 tablespoon of water
2 (or more) cups broth or water
Optional: carrot, baby corn, black moss
Instructions
Reconstitute the dry ingredients: soak mushrooms, cloud ears, and bean curd sticks in separate water containers for 1-2 hours or overnight. When the mushrooms are soft, remove the stems and slice, or leave whole. Trim the cloud ears, discarding any hard sections. Cut the bean curds sticks into 1 inch (2.5 cm) pieces. Soak the lily flowers in water about 30 minutes prior to cooking as these do not need to be soaked overnight.
Julienne the bamboo shoots or cut into slices; coarsely chop the napa cabbage.
For preparation of water chestnuts, see here.
For preparation of ginkgo nuts, see here.
Peel and thinly slice the lotus root.
Follow the instructions on the packaging to soften the vermicelli noodles.
Add oil to a large pan or wok and stir fry the snow peas until they just start to become tender (about 2 minutes). Remove and set aside.
Add more oil and stir fry napa cabbage for about two minutes. Add a little water to the pan if it becomes too dry. Remove and set aside.
Reheat the wok until it is hot, add a little oil, followed by the red bean curd. Aromatize for a few seconds then add all of the remaining sauce ingredients. Stir and heat until the sauce boils. Add the mushrooms, bean curd sticks, ginkgo nuts, bamboo shoots, and lotus root. Bring the wok to a boil and simmer for 20 minutes.
Add all of the remain ingredients, mix well, and simmer for another 10 minutes.